Learn how pages work along with page templates, the sitemap, and page variants.*
This article introduces pages and page templates, including the sitemap and page variants.
Topics covered here:
---
What are pages?
Pages define the behavior and appearance of your apps. Every screen users navigate to within your apps exists as a page in Presentation Manager. Whether you're looking at the home, an item detail, or a category page, it's essential to consider the design and use cases before configuring the display of your content.
Add rows to page regions (header, body, and footer), easily re-order, duplicate or remove rows to suit your use case, e.g., sporting events or entertainment. Target entire pages and rows to specific end-users, with page and row variant parameters. These include device type, language, segmentation tags, date, and time of day.
Pages have different purposes, meaning that the setup process for each one will differ slightly in Presentation Manager. For example, the home page typically displays a wide range of assets that focus primarily on imagery. In contrast, an item detail page provides further supporting information on the title, such as a description or cast introductions, and can include the option to bookmark and rate the content.
What are page templates?
The page template determines the row types that will be supported on your page.
You can see, highlighted below, how to identify the template in use.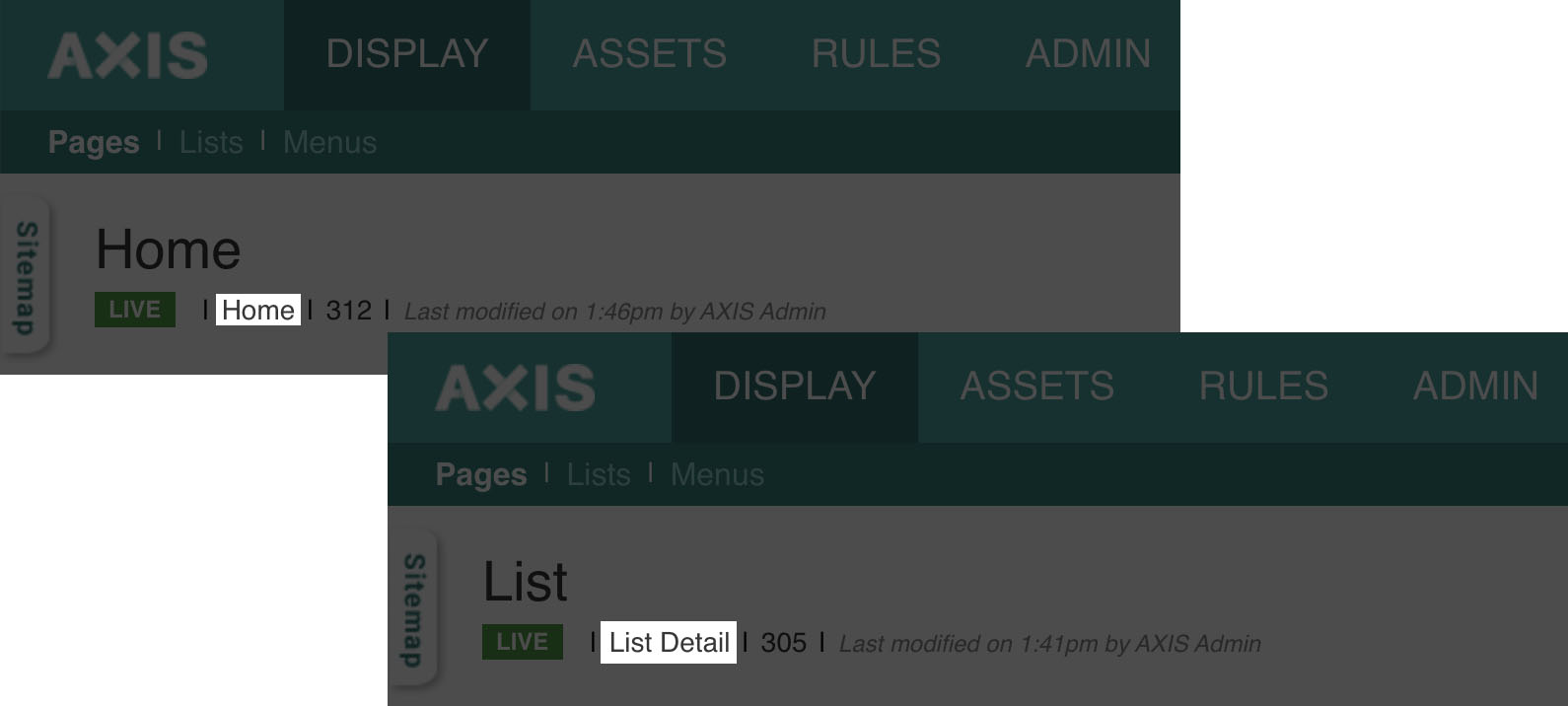 To access the list of page templates, navigate to the sitemap, and select the

button.

What are system and standard pages?
There are two types of page template: system and standard. When choosing a template for a new page, switch between the two in the top right-hand corner, as shown above.
Standard pages are dynamic and editorially curated, working 1:1. This ensures the relevant content is featured on the appropriate page template, e.g., category, featured list, or home page.
System pages work as 1:many. Modifying a system page affects all pages using it as a template. E.g., making changes to an item detail page will change the appearance of all pages based on this template - show, movie, program, episode, and so on. System pages are not dynamic.
For a comprehensive list of page templates and the row types they support, read our detailed article on this subject.
Note: System pages are typically connected to important business processes (such as account creation). For this reason, we strongly advise against modifying them.
What is the sitemap?
The sitemap is an index of all existing pages within Presentation Manager. Switch to another page or add a new page by selecting the Sitemap tab on the left.
Learn more about navigating the sitemap and how to choose or create a page for your content.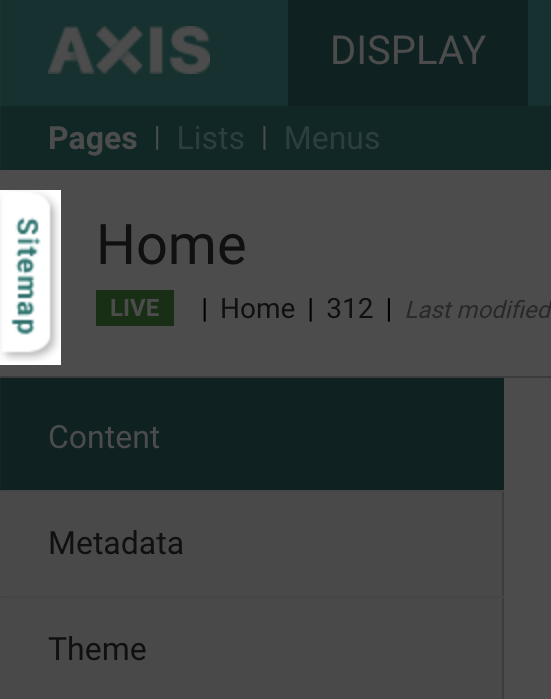 What are page variants?
Before you add content to a page, it's essential to understand what page variants are and how they work. Page variants provide a granular level of control over pages, allowing you to create different versions of the same page by applying filters such as device type, user group, segmentation tags, dates, or time of day.

Read our article to learn more about page variants.
What are page rows?
Rows are the building blocks for your pages. The first step when creating a new page is adding the rows that will present your assets in your apps, displaying predefined lists of content to your audience.
Each row in the body of a page represents a row in the app. These rows show lists of content that may be displayed differently depending on the row type. Choose from the selection of available row types to present text and imagery in the way that best suits your use case.
For more information, see our rows article.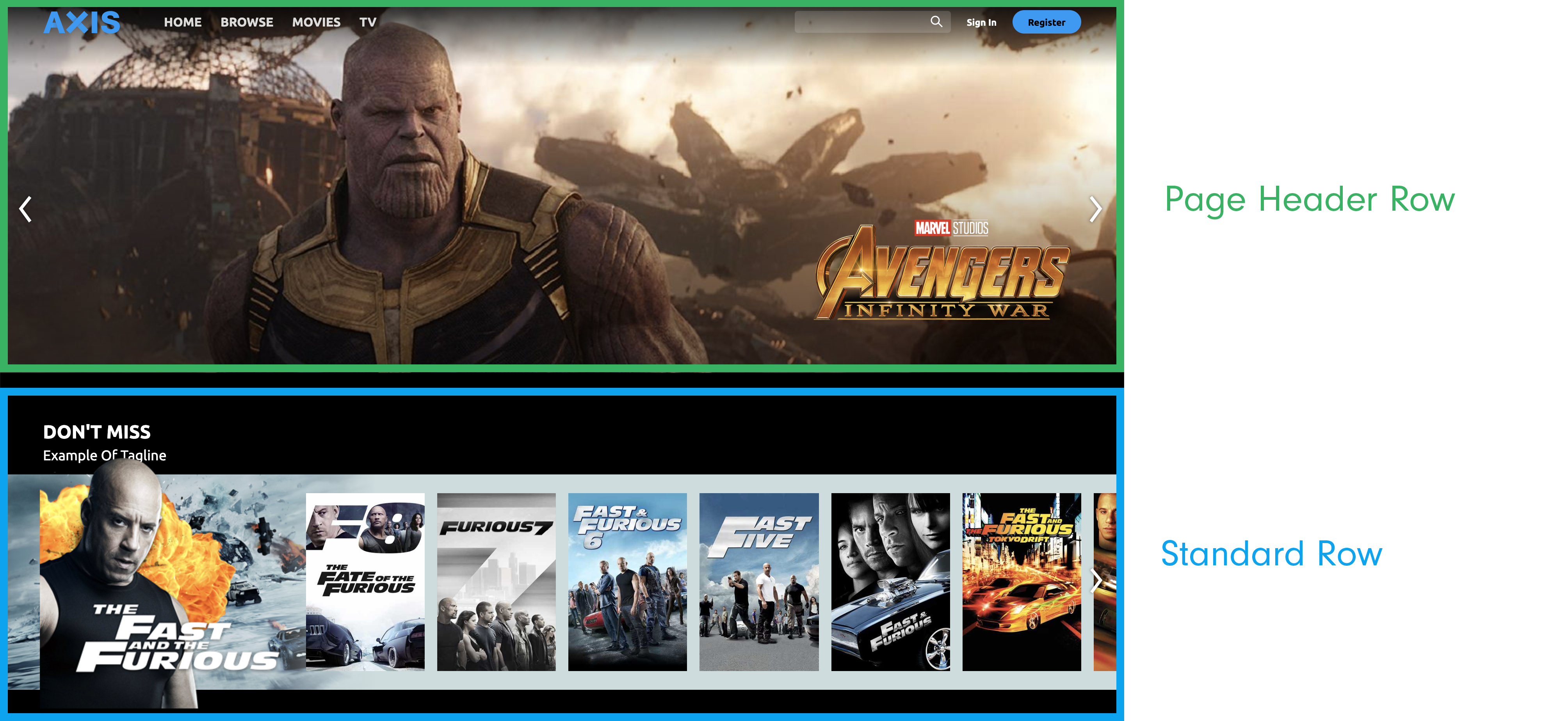 How do I set up a page?
To view, create or edit pages, navigate to the DISPLAY menu, then select Pages. The Content tab on the left-hand side is selected automatically.
Pages are divided into regions - header, body, and footer. Various row types are available within each region, depending on the page template you select.
Select rows to insert them into your page, and then link to predefined lists of content, text, images, or externally driven web views. You also have the option to add and configure page variants and row variants.
Below is an example of a home page setup within Presentation Manager.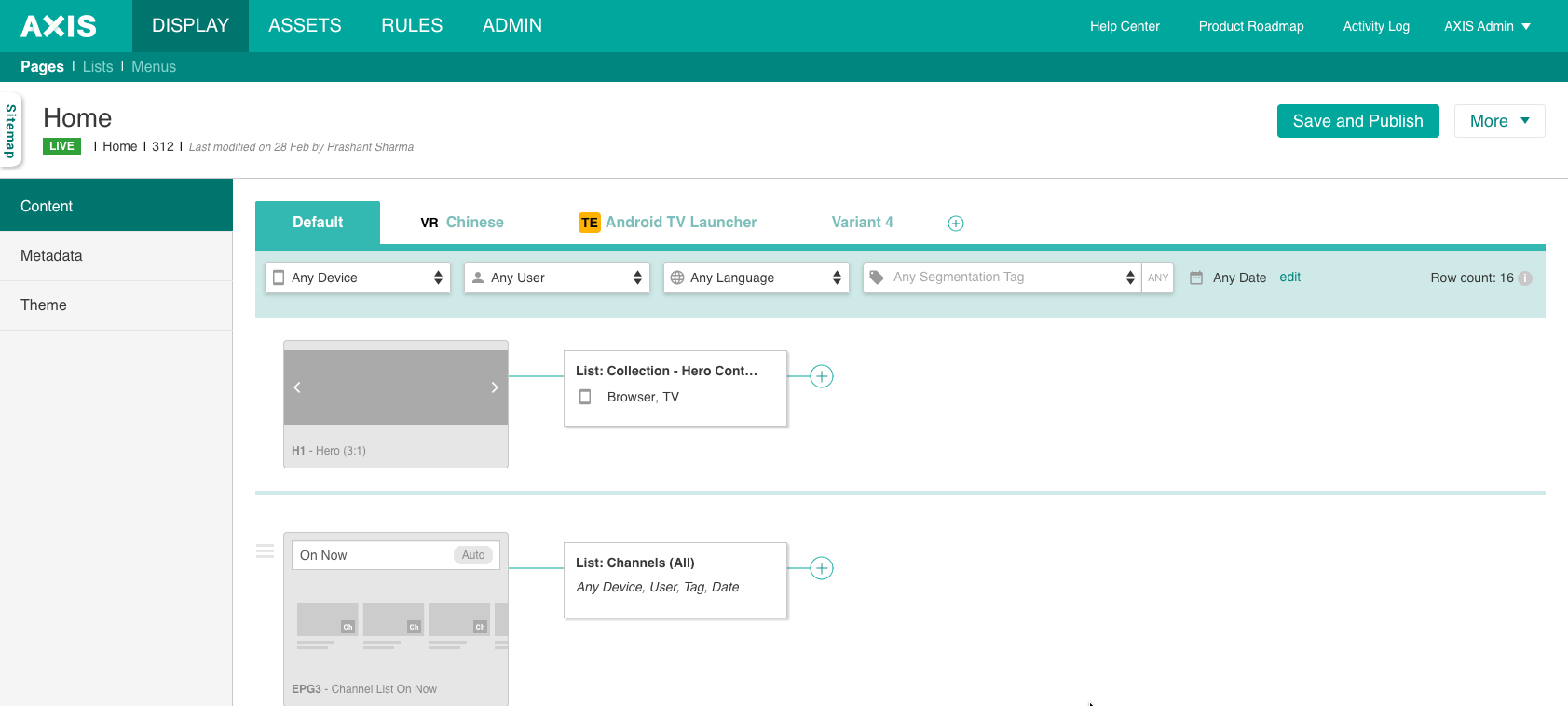 The page name, status, template, internal page ID, and last modified information are found at the top of the page.

Need to find out more? Browse our related articles section below or use the links on the left. Otherwise, jump straight into selecting or creating your new page.