Introducing the AXIS platform, key elements and maximizing capabilities.*
This article explains the basics of AXIS Presentation Manager, introducing some of the main features and terminology you'll come across while using the platform.
Feel free to use the links below to jump straight to an area of interest, or else read on to learn about the topic covered.
---
What is Presentation Manager?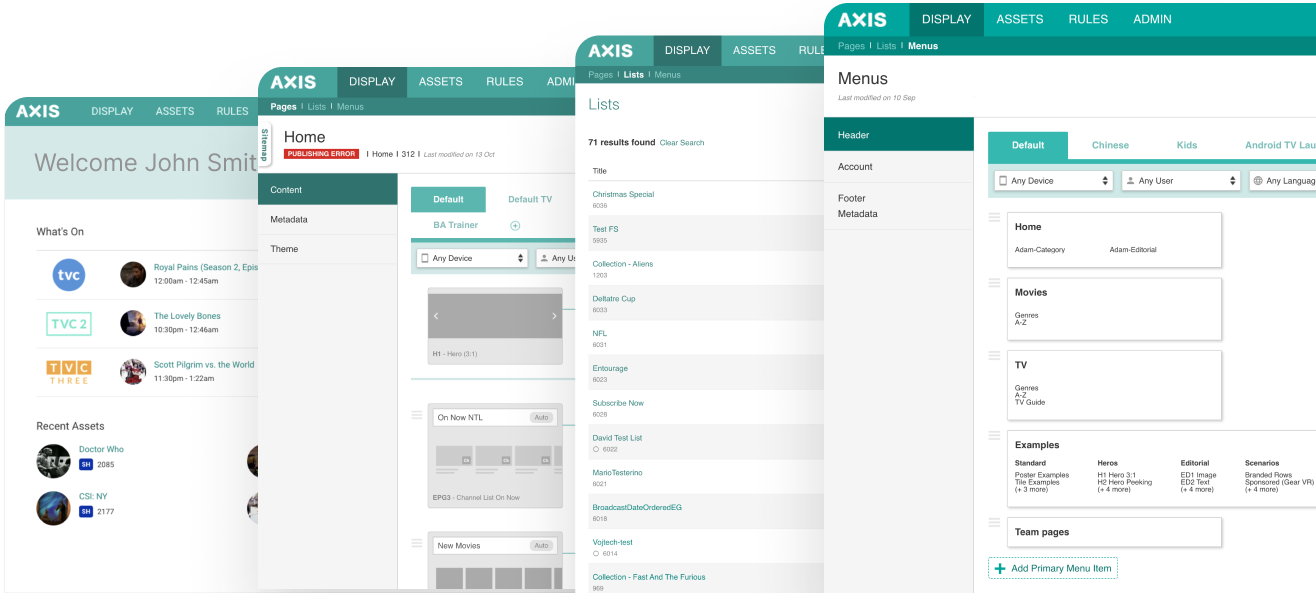 Presentation Manager is your control center for configuring your AXIS content and determining how it appears to users in the front end. It gives you the ability to customize in real-time the design, navigation, page layout, promotions, and content for your live and video-on-demand services.
Presentation Manager's main features center around creating and maintaining pages, menus, lists, and assets. These are explained in more detail below.
Pages and rows
Pages are the foundation of your content display, determining how your apps look and behave. Presentation Manager has a range of page templates for you to choose from, depending on the type of content you want to show and where and how you want it to appear.
Pages contain customizable rows, which define the structure of the assets you present to your end-users. Again, you can select from a wide variety of row types depending on your use case: header/hero, tile, poster, editorial, and many more.
Different page types support a different selection of rows, so the row options you have available will depend on your chosen page template. Read our pages and supported rows article to learn more about this. To see examples of different row types and how they appear on various devices, have a look through our row types articles.
Rows contain your lists. When you create a new page, you'll typically choose one or more rows to show and then configure these rows with lists of assets. Read more on lists in the next section, or check out our selection of articles on this topic.
Note: Pages are fully modular, add or remove multiple rows as required.

Lists
Before your ingested sport and entertainment content – in other words, your assets - can be displayed in rows, it must first be grouped into lists. Simply put, lists are a curated collection of assets. You attach these lists to rows, which in turn present the content to your end-users within pages.
You could create a list of new movie releases, for example, or upcoming events in a sports competition. You can then brand your list using imagery and metadata to enrich content discovery for your users.
Lists can be created manually, but by using list rules you can ensure efficient and dynamic list management. Combining list rules with asset relations lets you automatically serve content to users based on the things you know they're interested in.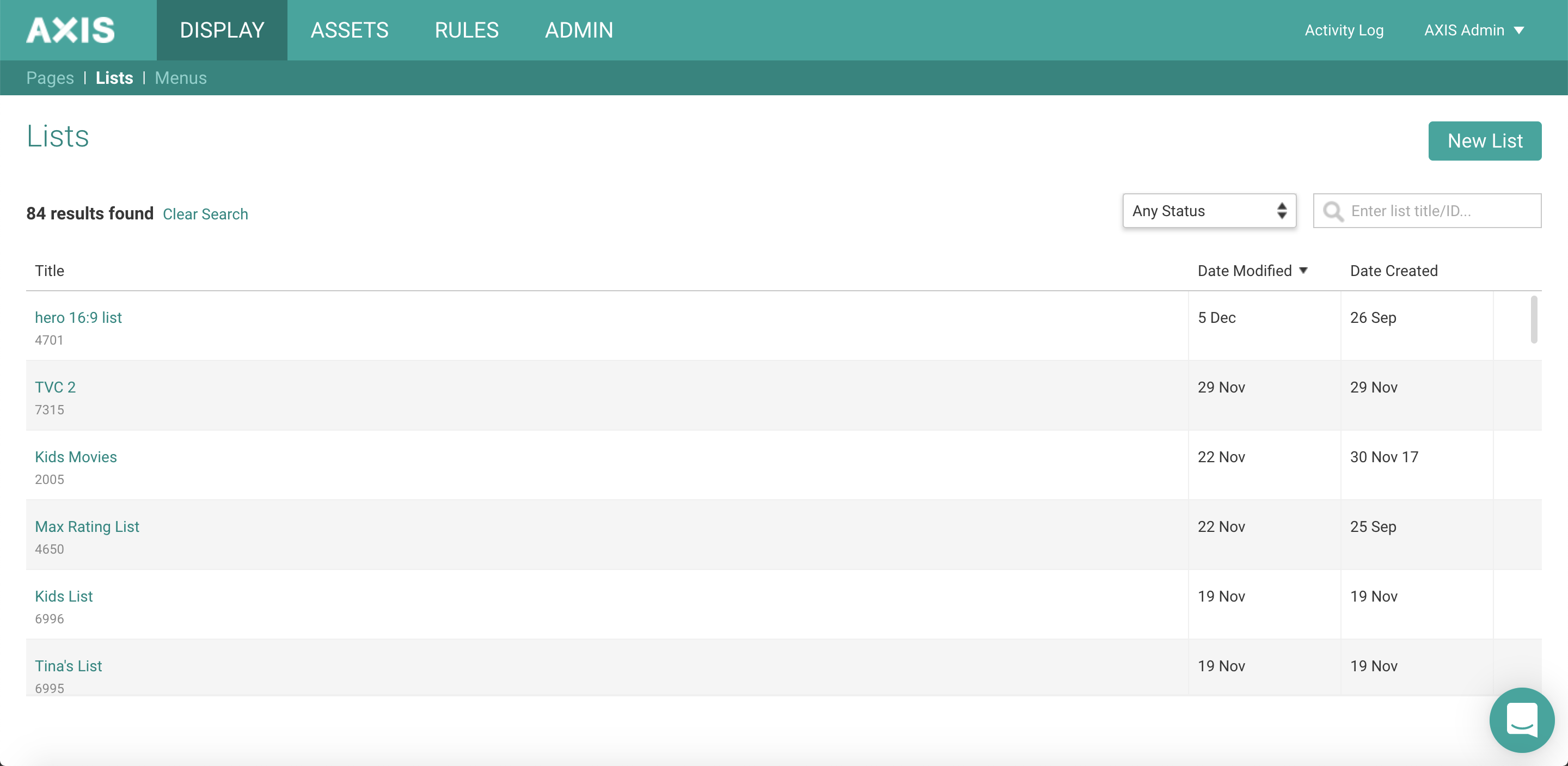 Assets
Assets are the video and non-video content that you provide to your customers. Presentation Manager supports multiple asset types across both sport and entertainment, as well as a range of asset metadata (including imagery).
While you can add and update assets manually in Presentation Manager, we highly recommend that you ingest your content from an asset management system.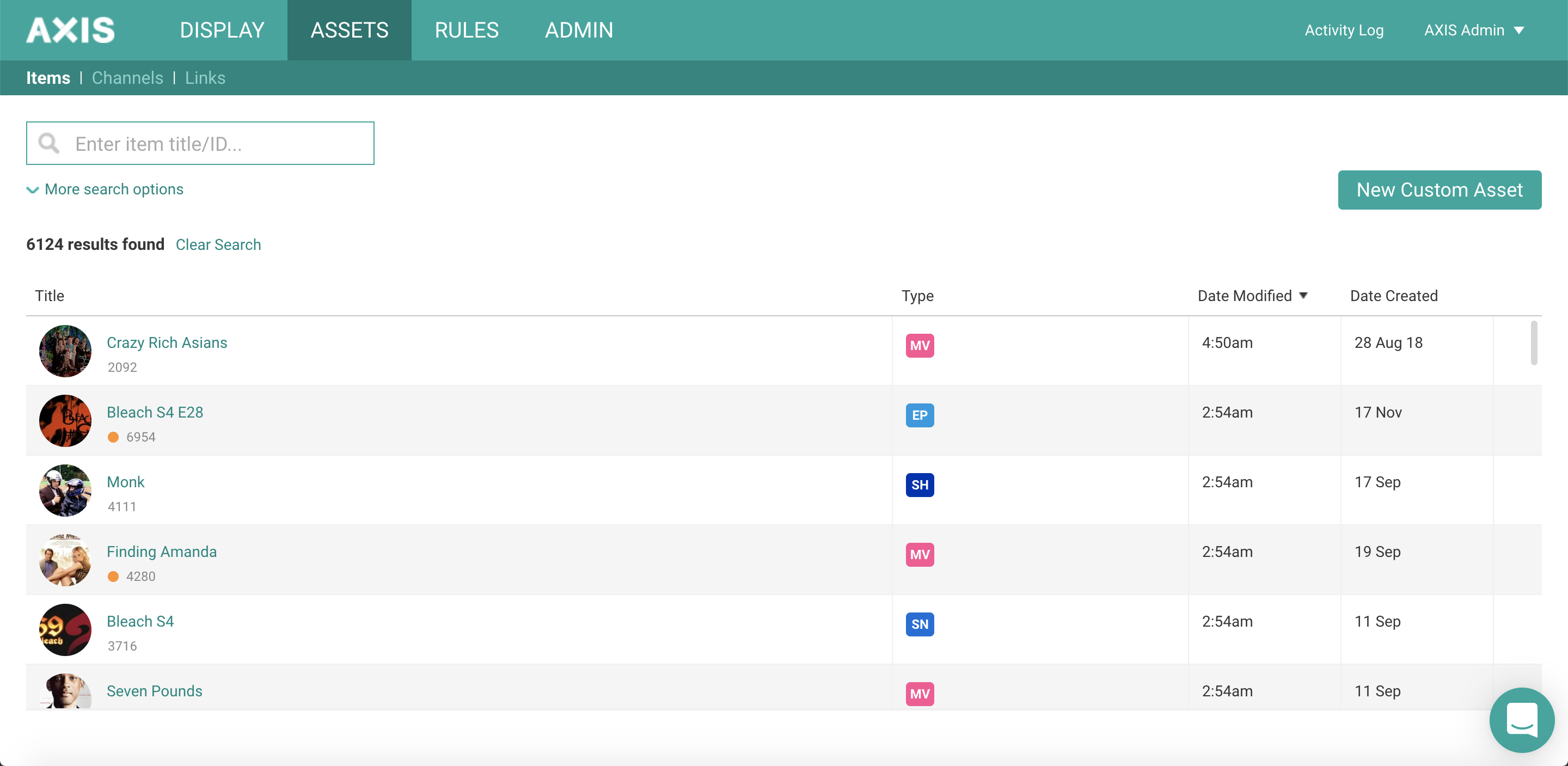 Menus
Menus help your end-users find content and information quickly and easily. In Presentation Manager, you can set up to three navigation levels, for the header, footer, and account menus, across all of your apps. You can also configure menu options for the mobile navigation bar on mobile devices.
Configure menus to include scheduled featured lists for planned promotions, or image links within the header for highlighting certain content.

Variants and segmentation
The variants and segmentation functionality in Presentation Manager allows you to target and personalize content across different systems to specific users.
With variants, you can create different versions of a page, row, or menu to dynamically target and serve each user with the most appropriate content based on device, user group, language, segmentation tags, date, and/or time of day.
Parameters that you apply will determine the version of the page, row, or menu your users see, and each variant is an entirely independent version, served directly to the targeted users. This removes any need to create a separate page/row for every variation you want to cover.
You can also schedule your variant changes in Presentation Manager. For example, you could set up a page variant with different content – lists, editorial text, imagery, etc. – in advance of an upcoming release. Or you could schedule a variant change to try out alternative versions of the same page.
The segmentation feature lets you group your users based on shared characteristics that you identify, so that you can serve them with relevant, targeted content. Creating segmentation tag groups gives you the ability to target specific variants at these groups as described above.
Read our variants and segmentation article to learn more about these features.

Deals
Deals refer to the licensing terms agreed with your distributor or the owner of your video assets. These deals may restrict certain types of transactions or playback on some devices. It is possible to have more than one deal with a distributor (e.g., governing license terms for new release vs. library content.)
By grouping assets into a deal (at the point of ingestion), you can be sure that none of your assets violate the deal and contractual terms. We'll discuss these details during the discovery phase of your project.
In Presentation Manager, deals are grouped together with global offers and plans under the term rules. Together with entitlements, they govern what content you can offer to users, and what each user is able to play. You can learn more about these in our section on rules, or read on for a brief overview of offers and entitlements.
Offers
Offers are used to control how you provide your content to your end-users: who can access the assets and on what kind of device, what prices and playback rules apply. To appear on your end-users' apps, assets must be offerable.
Offers and entitlements are configured and managed within your Online Video Platform (OVP). Use your OVP to drive out offers, for example, where you want entitlements to lie, who has access to downloads and 4k Ultra High-Definition content, and so on.
Entitlements
Entitlements happen behind the scenes. They're snapshots of an offer or plan details taken at the time of purchase by a user. These details are saved to the user's account and are used to determine whether the user can play a particular asset.