Learn about lists and how to manage them from within the list catalog.*
This article covers lists, the list catalog, searching for existing lists, re-ordering list assets, and linking to rows. Jump to a specific topic using the links below:
(Want to find out how to set up a new list? Read our article on creating and managing lists.)
---
What are lists?
Lists are groups of assets that you attach to rows so that they can be displayed on a page in your apps.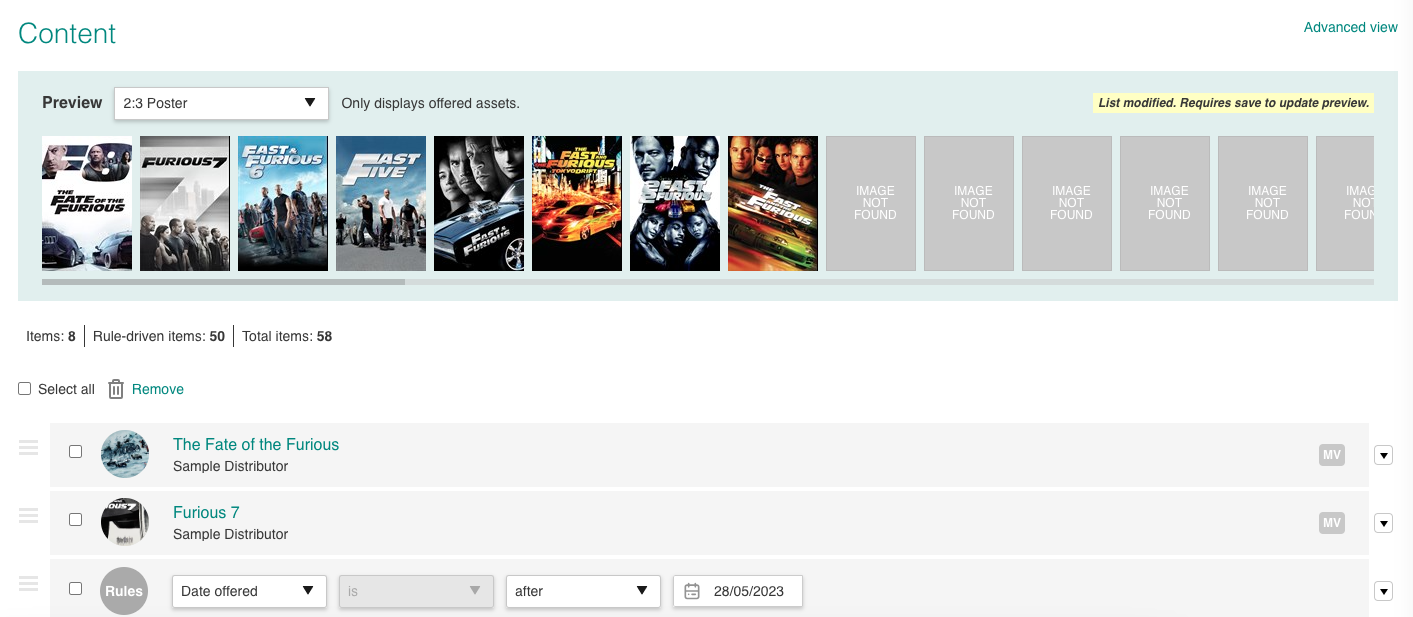 You build a list either by collating individual assets or by using a combination of assets and rules.
Once you've added your assets to Presentation Manager, you can start to curate your lists. Create a list of assets grouped by theme, genre, sport, or another parameter, and link these predefined lists to rows within pages.
Include linked imagery and colors to enrich the appearance of your lists through what's known as branded rows. See our pages and supported rows article for more information. The combination of lists and rows creates dramatic, image-centric content to entice your audience.
Read our using list rules article to learn how to use this feature to build dynamic lists.
The list catalog
All of your existing lists can be found in the list catalog. To navigate here, select DISPLAY followed by Lists.

Click on any column header: Title, Date Modified, or Date Created to change the sort order.
Note: If you're curating your list manually, we recommend adding no more than 50 assets. Long, manually-curated lists require significant effort to set up and manage. If you need to create an extensive list, we'd advise including two or three simple rules to streamline the process.
Read our creating and managing lists article for further information about setting up a new list.
Publish, archive/unarchive, or delete lists directly from the catalog. With any list row highlighted, click on the arrow on the far right-hand side to open the list action options.

How do I filter lists?
To search for a specific list in the catalog, simply enter the list title or ID into the search field.
You can filter lists by status, using the dropdown next to the search field. The default view is any status, which shows all of your lists including draft and published.
The number of matching results found is displayed alongside the list title, creation date, and last modified information.

How do I view the contents of a list?
To view and configure a list, click on the list title in the catalog. This opens the list properties screen, where you can view the list content and settings, and make changes.

In the list properties screen, a preview of your curated list displays available asset imagery.
Below the list preview (AXIS 9.8 onwards), an item count displays, including Items (manually added by an operator), Rule-driven, and Total items.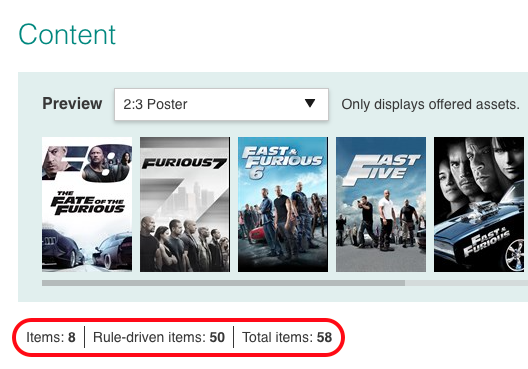 If any notes have been added to the list (AXIS 9.5 onwards), you'll be able to view them by clicking on the

icon in the top right-hand side of the list properties screen. Find out more about list notes in our creating and managing lists article.
Change the list image format by selecting an option from the Preview dropdown. If you see an "Image not found" message, it means that no image file exists for that asset in the selected format.
Read our uploading and managing images article for further information about setting up images for your assets and links.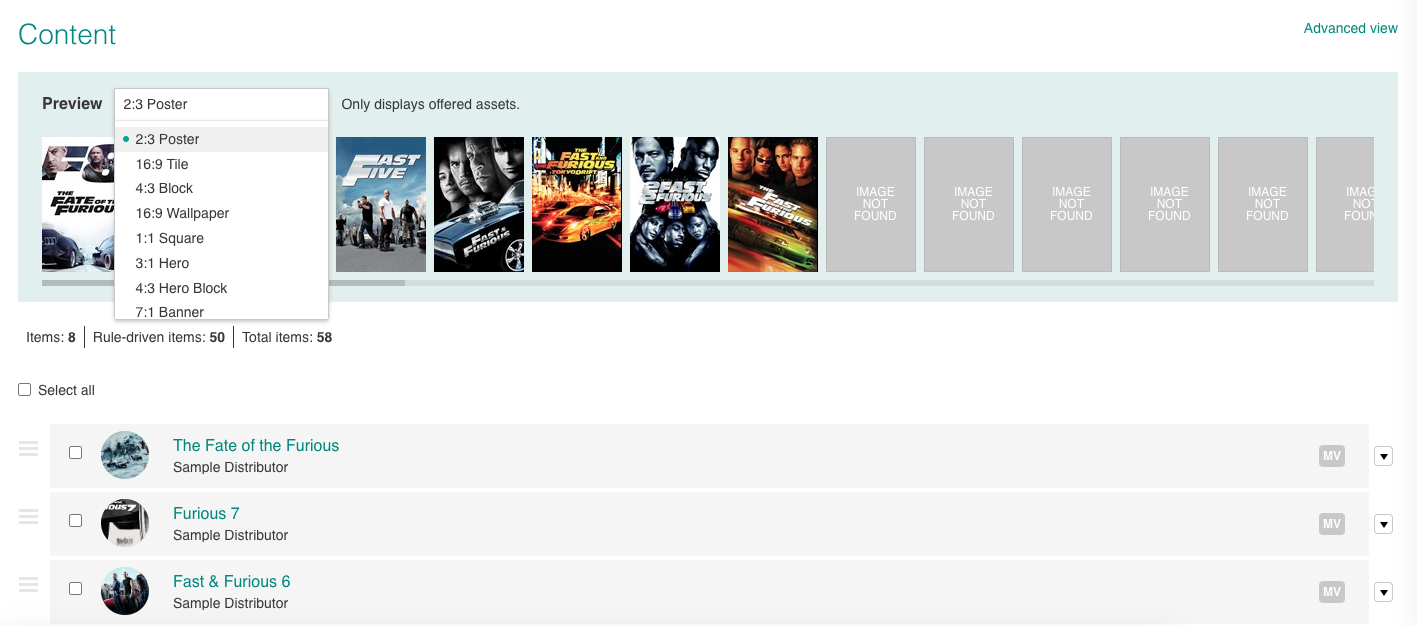 How do I re-order lists?
To re-order assets within a list, click the re-order icon, then drag and drop the asset into the desired position. Read about re-ordering rule-driven lists in our using list rules article.

How do I delete list items?
Deleting list items is straightforward. As of AXIS 9.8, multi-select delete means deleting multiple list items takes only a few seconds.
Select the list items, including list rules, and select Remove at the top of the list. Alternatively, select Select all to quickly delete all items within a list. A confirmation message displays to confirm the action.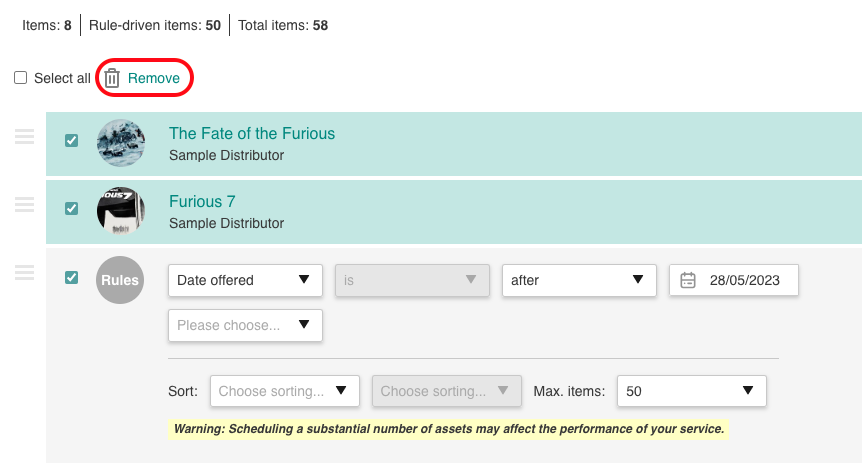 How do I identify asset types?
Asset icons exist to help you easily identify asset types within a list. Hover over asset icons for information.

Below is a list of the available Entertainment and Sports asset types and their respective icons:
Minimum version requirements: For Sports asset types, you must be using AXIS 9.0 (or above.)
Entertainment
Sports

Movie
Confederation
Episode
Competition
Program
Stage
Season
Event
Channel
Team
Show
Persona
Custom
Link
Persona
How do assets link to rows?
To display content in your apps, lists need associating with a row. The instance below shows the predefined list Collection – Hero Content, linked to a "Don't miss" P1 Standard row. Upon publishing this page, the list displays within a P1 "Don't miss" row in the front-end apps.
As of AXIS Presentation Manager 9.8, the list item count displays the number of list items in the row. In the example below, 15 items belong to this particular list.
Read our assets and rows articles for further information.