Learn how to search for existing assets using your asset catalog.*
This article explains how to use the asset catalog to search for existing assets.
The following topics are covered here:
How do I find an asset in the catalog?
Use the extensive search function to locate a specific asset within your catalog.
Enter an asset title or ID into the search field.

2. For a more granular search, click the More search options link to open the filters panel.

The filters allow you to narrow down your results by:
item type
subtype
genre
keyword
category
distributor
deal
status
Using the filters
All filters except keyword operate as combined drop-downs and type-in fields. The keyword field is type-in only.

| | |
| --- | --- |
| | Add more than one term to the same filter. |
| | To remove a single term, select the x on the term. |
| | To remove all terms, select the x by the drop-down arrows. |
To remove all applied search criteria, click the

link.
Viewing search results
Assets matching the search criteria you apply are displayed in a sortable table.
An orange icon underneath a title indicates that the asset is offerable.

If there are no results for your search, you might need to add a custom asset to your catalog. Custom assets are those you create within Presentation Manager, rather than ingesting.
Take a look at our custom assets article to learn how to add and edit this asset type.
Sorting assets
Sort by Title, Type, Date Modified, or Date Created by clicking the relevant column header. You'll see an arrow beside the column header on which the table is currently sorted.

By default, the search excludes archived assets. To view them, select Archived from the item status filter: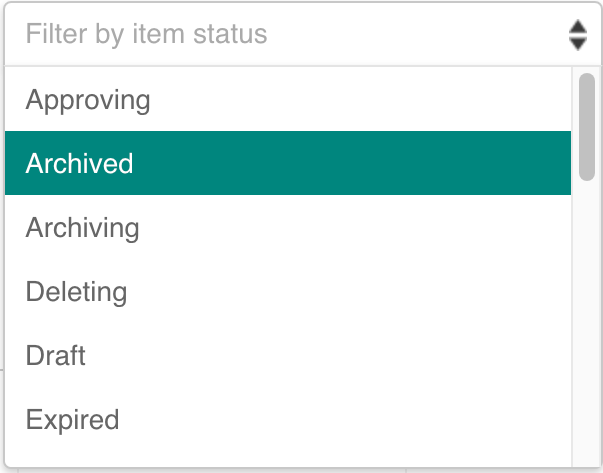 Viewing asset information
Select the relevant thumbnail or title from the search results table to view information about a particular asset.

From the asset's detail page, use the left-hand navigation to view and edit asset metadata, scheduling, images, themes, offers, and related assets.