Looking to add new links and edit existing links? Click here.*
This article covers link assets, adding new and editing pre-existing link assets.
What are link assets?
Links in Presentation Manager are asset types in their own right. Links enable operators to schedule link assets to take users to internal areas of the app or an external site. Link assets can have a destination of either an Item, List, Page, or External URL. For your end-users, selecting the linked asset within your app redirects them to the specified destination. The example in the screenshot below shows linking a menu item to a list.
For further examples of link assets, click here to read about block links.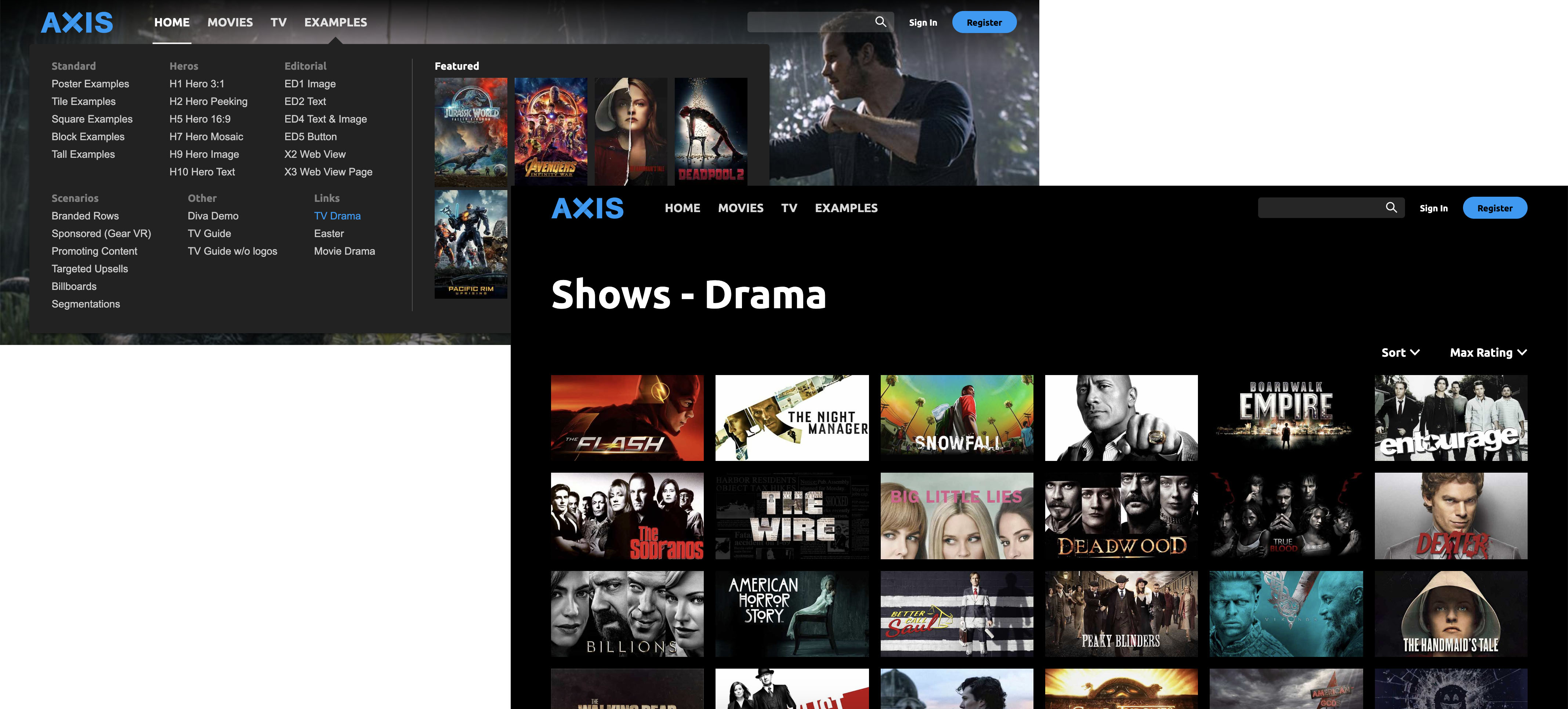 An alternative user case may require a seasonal theme for specific content. Utilize link assets to upload new asset imagery and then link to the relevant pre-existing asset. To view examples of links, click here.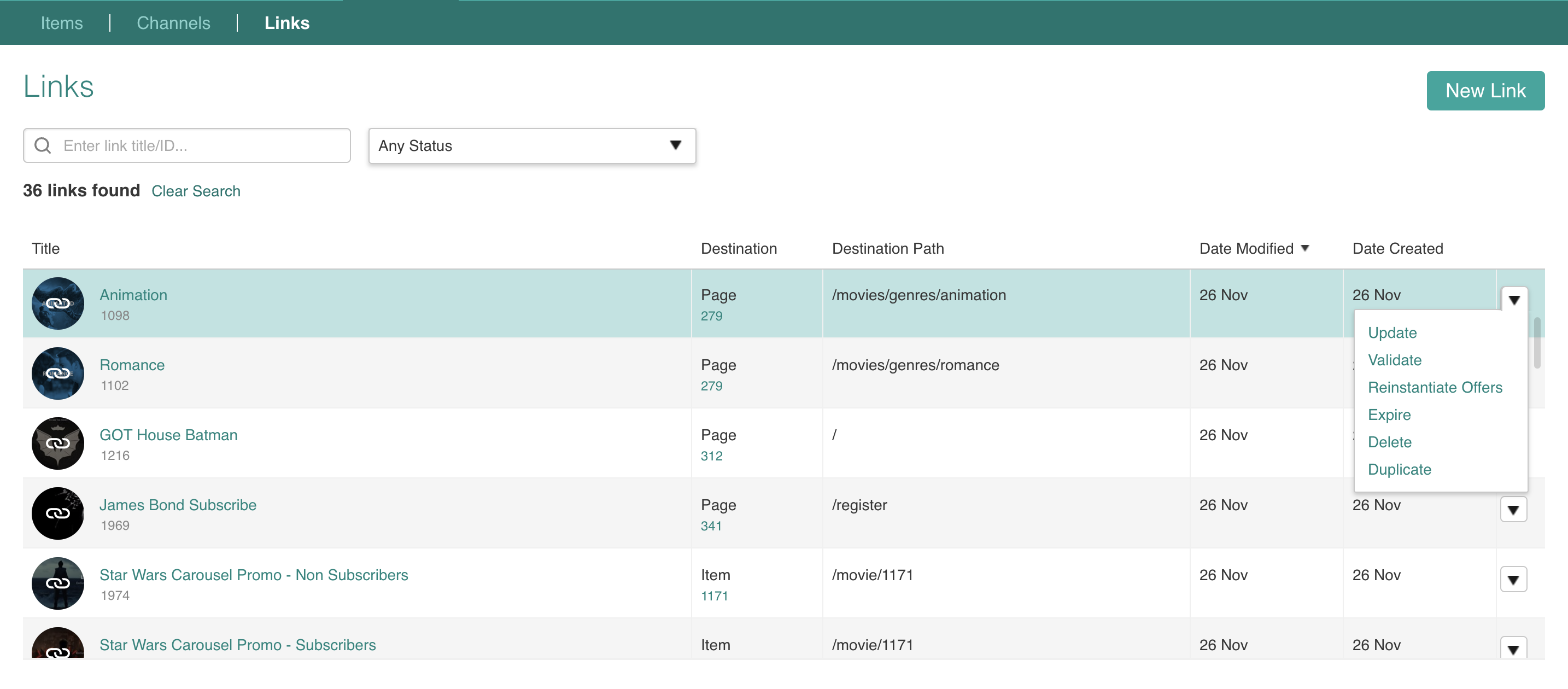 For further information on lists, click here.
How do I create a new link asset?
Links are created using the same method whether the destination is Items, Lists, Pages, or an external URL.
The example below demonstrates a link set up with a destination of "list."
Navigate to ASSETS, select Links.
Previously ingested and custom link assets display in a table (see below); this is known as your link asset catalog. Sort your catalog by Title, Destination, Destination Path, Date Modified, and Date Created.
You'll likely have many links in your catalog, which is why Presentation Manager has extensive search functionality.
Search for link assets via status and or title/ID
Any link assets matching the search criteria display in the table
For further information on searching the asset catalog, click here.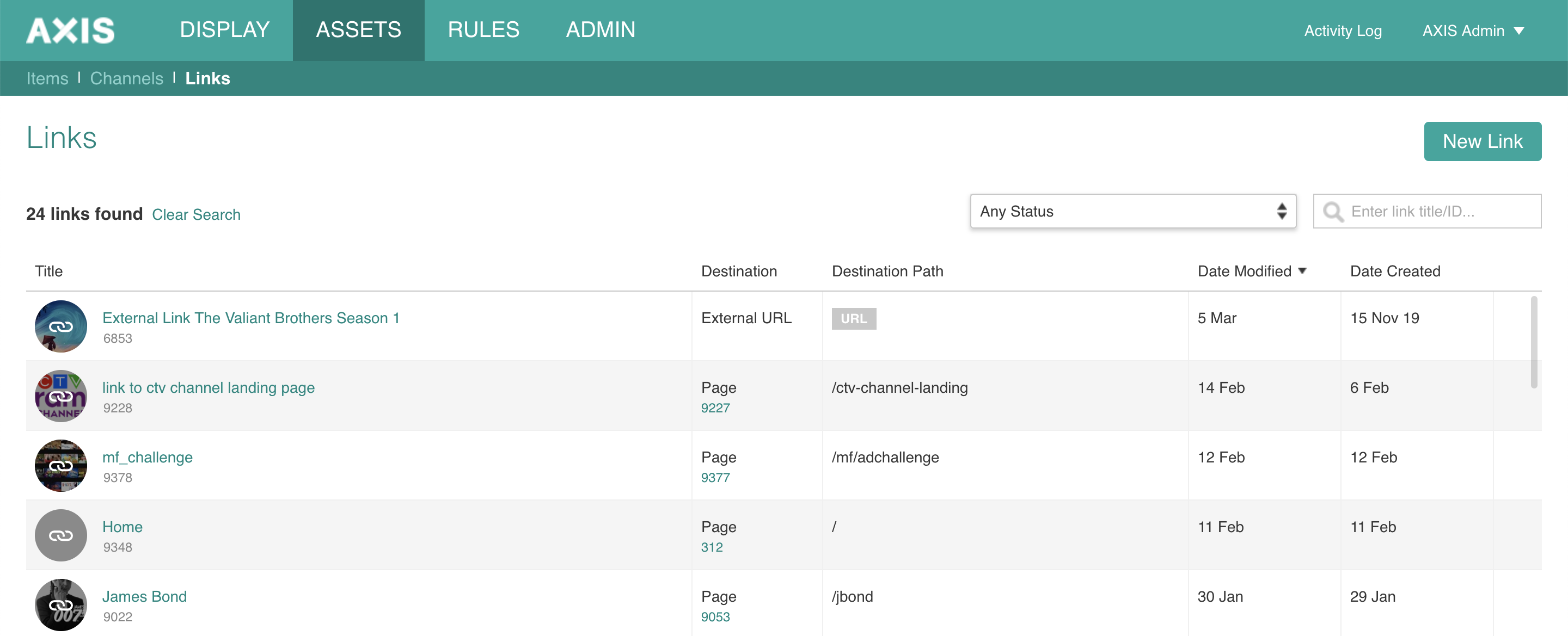 2. To create a new link, click the

button at the top right of the screen.
3. Enter information into the required fields: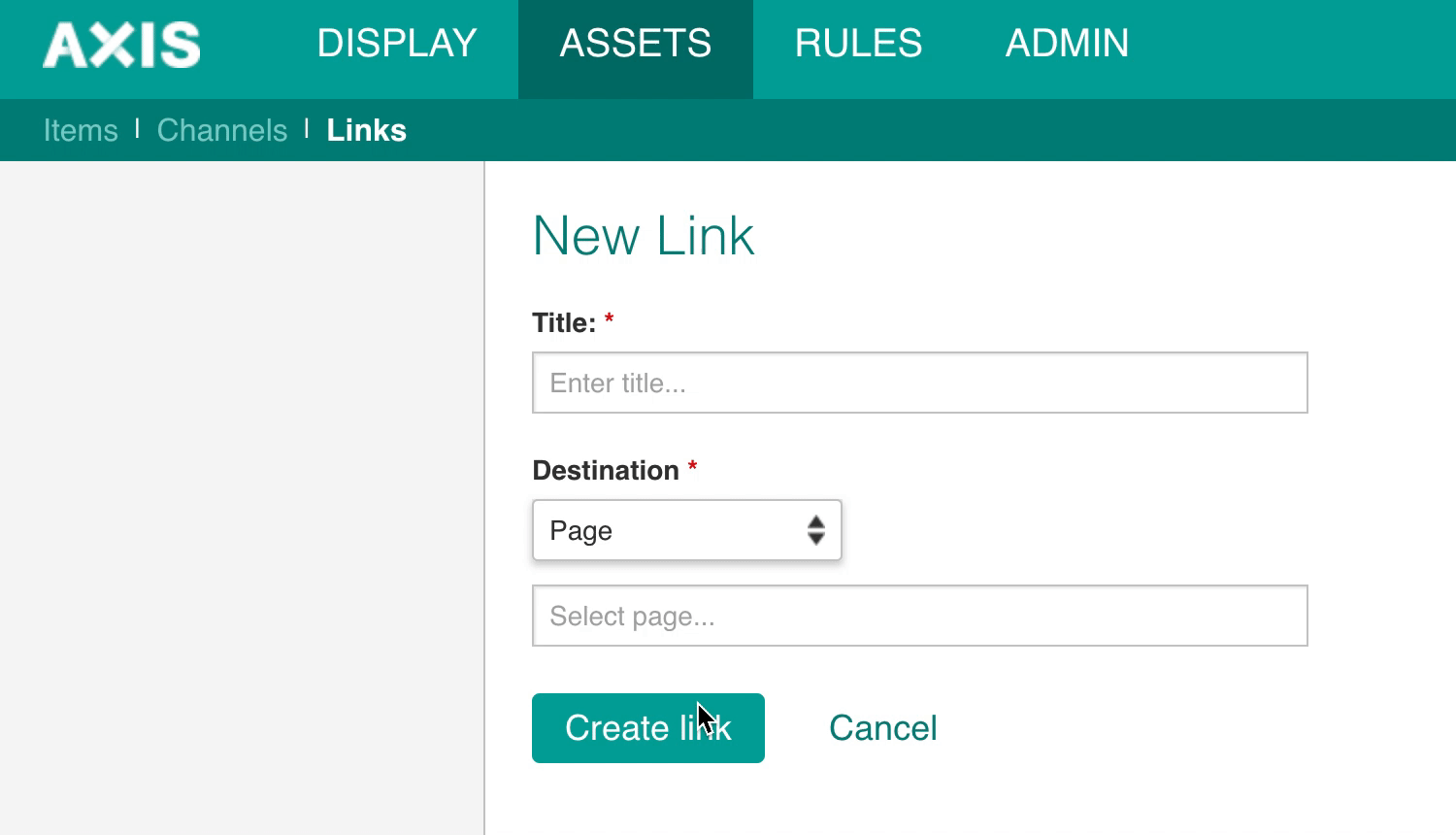 Title: Specify the name of the link
Destination: Select either; Item, List, Page, or External URL
"Select list...": Choose the Item, List, or Page you wish to link to. If your destination is an external URL, put the URL address here.
4. Select the

button to save the link asset.
Notes:
All information entered into the New Link fields can be edited at a later stage.
A screen reader reads link titles if accessibility tools are in use.
Recording link information
Next, input or edit information such as Metadata and Images. On the left-hand side of the page, select a section to display relevant fields in the page body.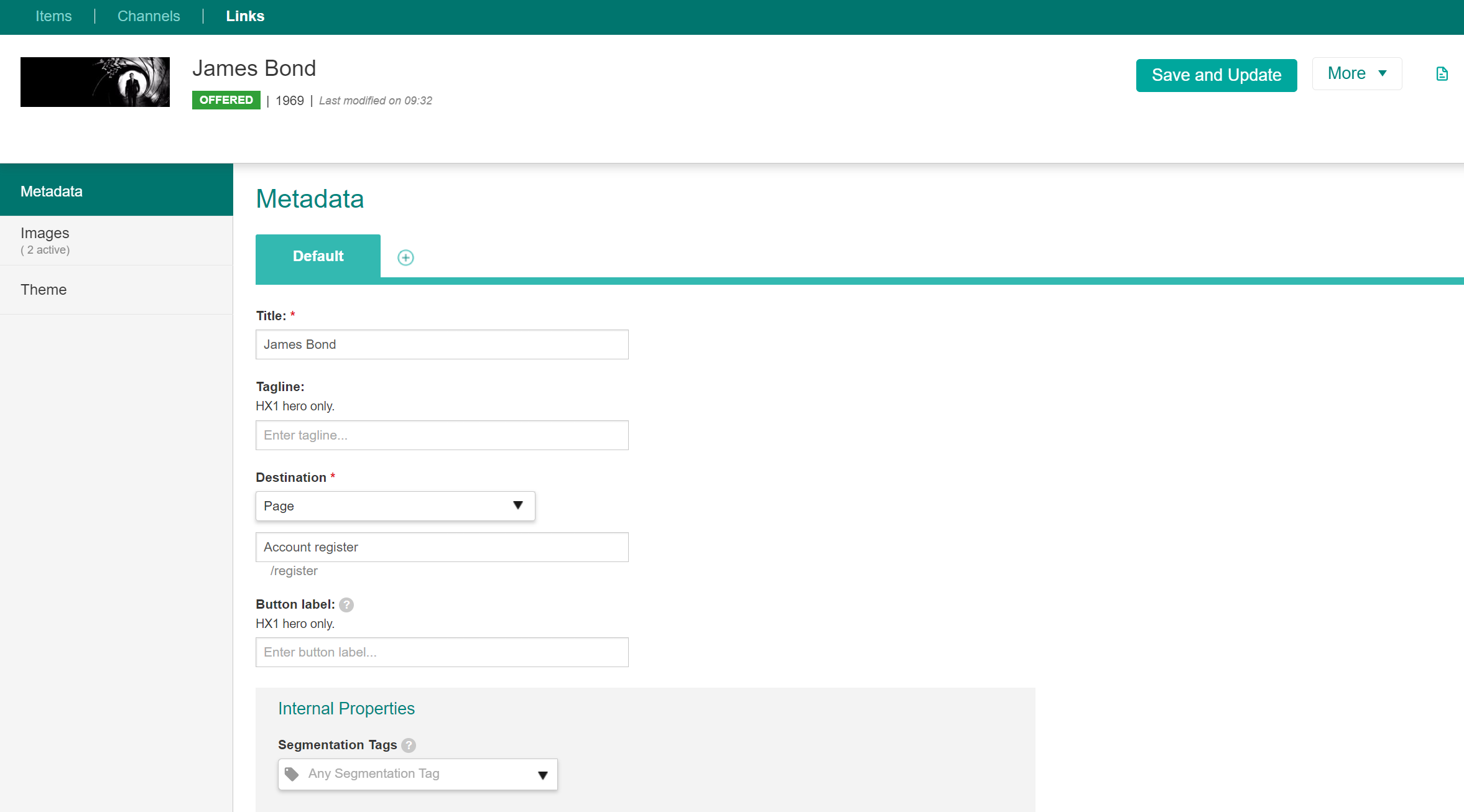 When viewing or editing a link asset, key information about the link is displayed at the top of the page:

Key
Control
What it means

1

Link thumbnail
The image you see here is typically ingested; however, upload images manually using Presentation Manager. Follow the link for further information on how to upload images.

2

Link title
This is the name of the link.

3

Status
This flag is dependent on whether the offers set at

ingestion

are approved and active. The status can also be Validated and Offered directly within Presentation Manager.

4

Link ID
This is a unique ID in AXIS Presentation Manager, useful for searching.

5

Last modified information
Here you can find out who edited the link last and when.
1. Metadata
Upon selecting a link title from the link catalog, the metadata option selects by default. The title is pre-populated from link creation; however, it is editable.
Metadata variants
Here you can create additional language variants for your links, meaning they can display in several different languages.
| | |
| --- | --- |
| | Within the metadata menu tab, select the button next to the variant tabs to create a new language variant. |
Follow the link for further information on variants.
With the required variant selected, enter data into the relevant fields or edit existing data: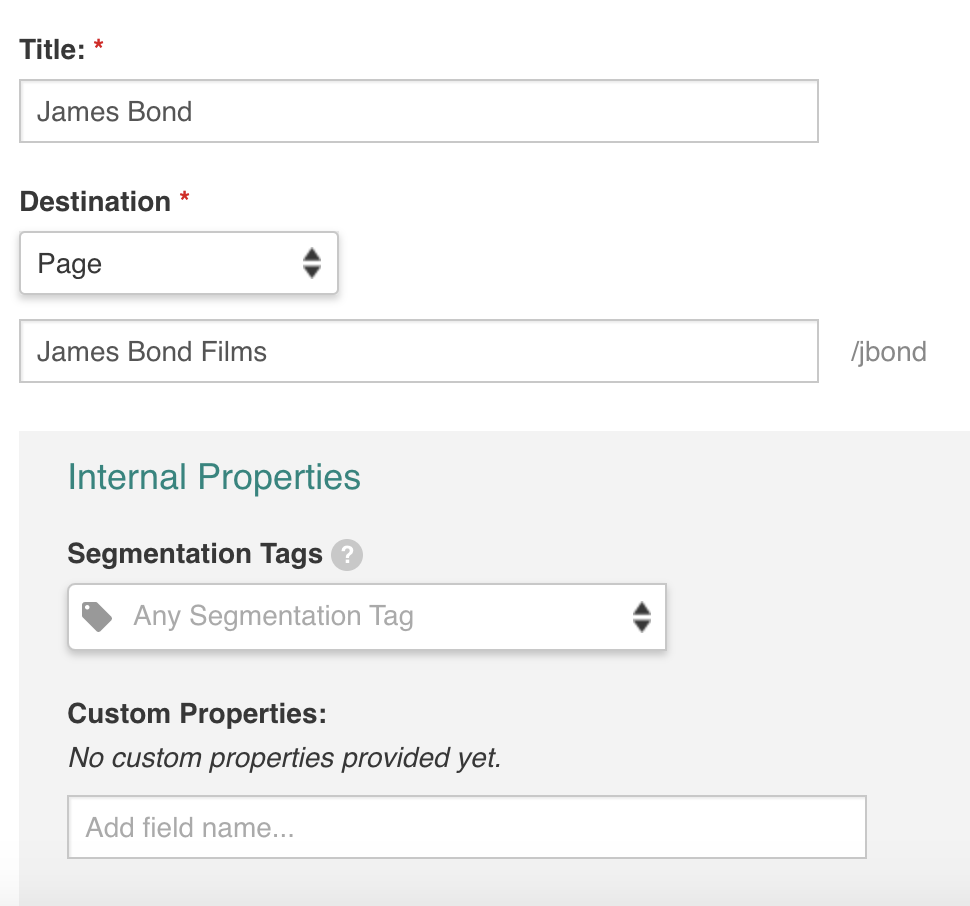 Title (mandatory): This field is pre-populated from link creation; however, the title is editable.
Destination (mandatory): The Destination type selected here is specified on Link creation. Specify or change your destination to one of the following: Page (default), Item, List, or External URL.
Select Destination: The "Select" field is populated with content specified on Link creation and is contextualized to the Destination type. Specify or change your destination details here to a Page, Item, List, or an External URL.
Internal Properties
Segmentation Tags
Target your links at specific groups based on Age, Activity, Behavioural Analytics, etc., meaning depending on how you've grouped your users; you're able to direct content to them easily. Click here for more information on segmentation tags.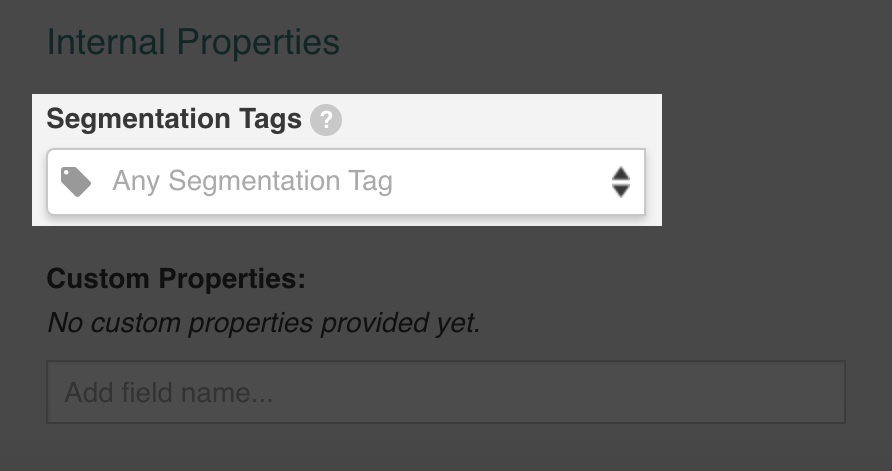 2. Images
Images must be relative to the image type of the row; for example, if you wish to apply a T1 row type, links must be updated with 16:9 images.
Note: Images need to be in JPEG or PNG format.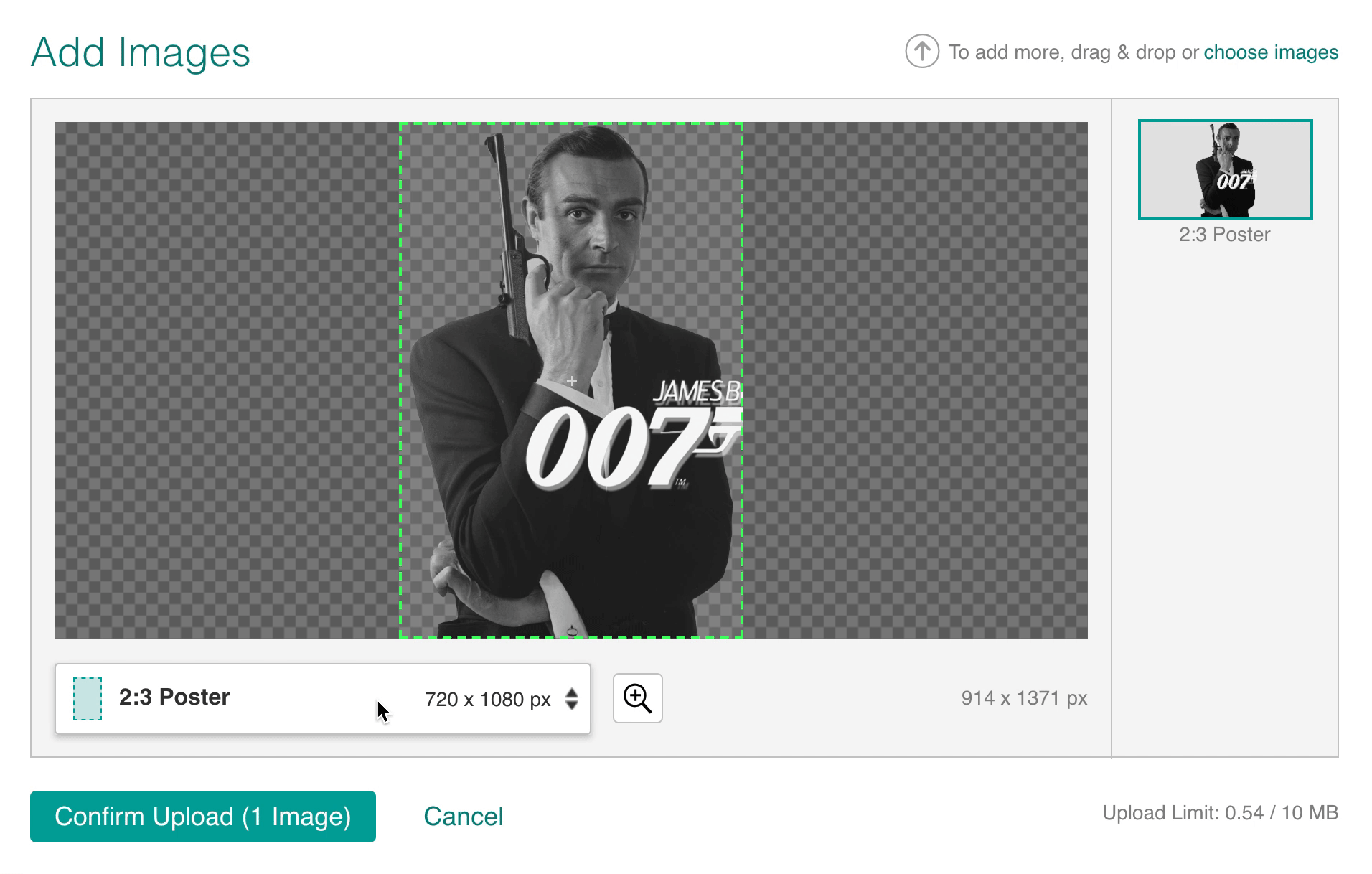 Add new or edit pre-existing link images that display throughout your apps. Follow the links to learn more about how to upload images and activate and manage images.
Note: There's no need to publish a link; publishing takes place automatically when you complete the link creation stage. Any updates made to the Metadata or Images require manual publishing.
For further information on lists, click here.