Looking to understand how to set up and manage languages in Presentation Manager? Click here.*
This article covers the setup point for languages within Presentation Manager.
The following topics are covered here:
---
Languages and localization
The languages you set up in the Admin area of Presentation Manager are available as user options in the Reference Apps, as well as for configuring asset metadata, pages, rows, and menus. Only languages added here can be selected for use when creating variants.
Note: The language switcher in the footer of the AXIS Reference Apps displays language options that are set up within the ADMIN > Settings area of Presentation Manager and added to a page variant.
The default operating system (OS) language of a user's device will usually determine the localized content, metadata, and UI they see in their app. Users can override this by manually changing the language in-app. If localized metadata isn't available for their selection, the platform can fall back on a single default language.
AXIS also supports Right-to-Left (RTL) languages and mirroring.
How do I set up languages?
To set up or to edit existing languages, navigate to the ADMIN menu, then select Settings.

On the left-hand side of the screen, select the option Languages.
Active languages are displayed in a catalog. Click on the headings to sort languages by Title, Label, or Code.

Hover over a language and select the triangle button to display options:
Select Update to refresh the language.
Select Archive to remove the language from options within Presentation Manager.

How do I add a new language?
Click the button.
Enter details into the relevant fields: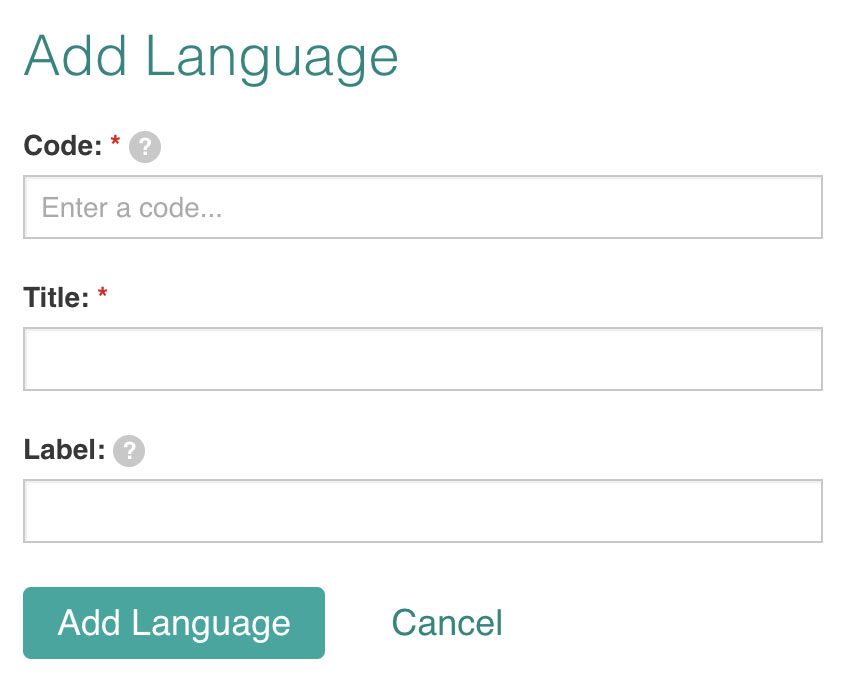 Code (mandatory): Enter a valid language code, or select from the dropdown list that appears when you click into the field. E.g., en for English, or zh-Hans for Chinese (Simplified).
Title (mandatory): The selected language title is auto-populated here.
Label: An alternative name for your language is auto-populated here, e.g., Español for Spanish.
3. To save, click the

button.
Newly added languages are instantly available.
How do I edit a language?
Select a pre-existing language title to modify details or to view the status and last modified information.
Here, both the Title (mandatory) and Label fields are editable.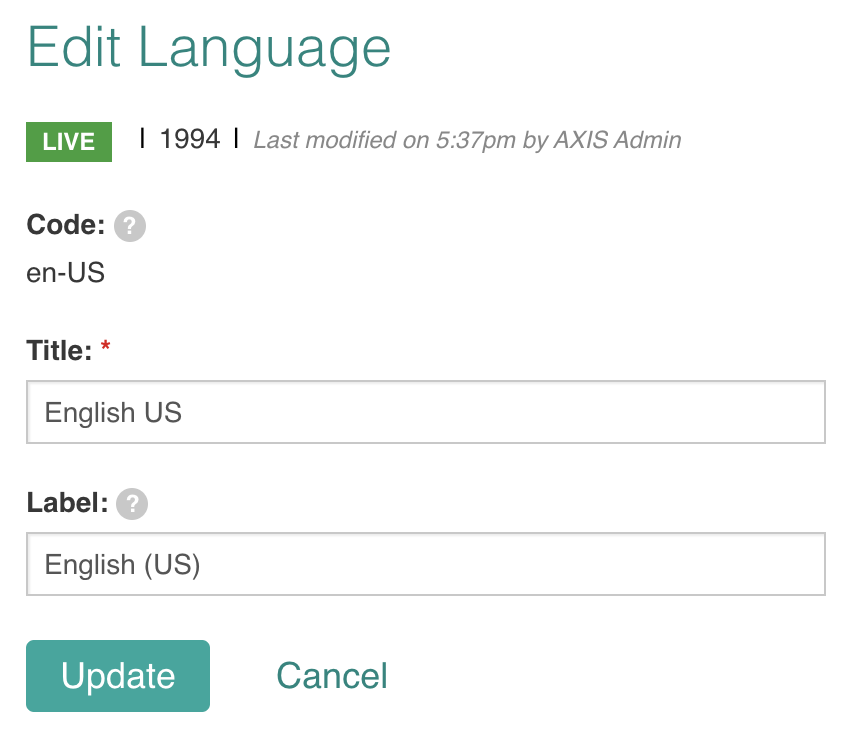 To save changes, click the

button.
Alternatively, you can archive the chosen language by selecting the More button at the top right-hand side of the screen and selecting Archive.

Once a language has been archived, it can no longer be selected when configuring language options for menus, pages, or rows within Presentation Manager. A grey icon is displayed next to the title of the archived language within the catalog.