Get an overview of the AXIS product and learn about its main components.*
This article introduces the AXIS product and provides a brief overview of Presentation Manager and the Reference Apps.
What is AXIS?
AXIS is a multiscreen user experience platform for over-the-top (OTT) live and video-on-demand (VOD) services. It includes Presentation Manager, a UX management console, and a suite of multi-platform Reference Applications. Underlying and supplementing them are a high-level architecture and a range of third-party integrations.
AXIS is designed to empower non-technical editorial teams – no coding skills are required. Drag-and-drop, preview, and publish in Presentation Manager, and immediately see changes you make to design, navigation, content and more, reflected in your apps.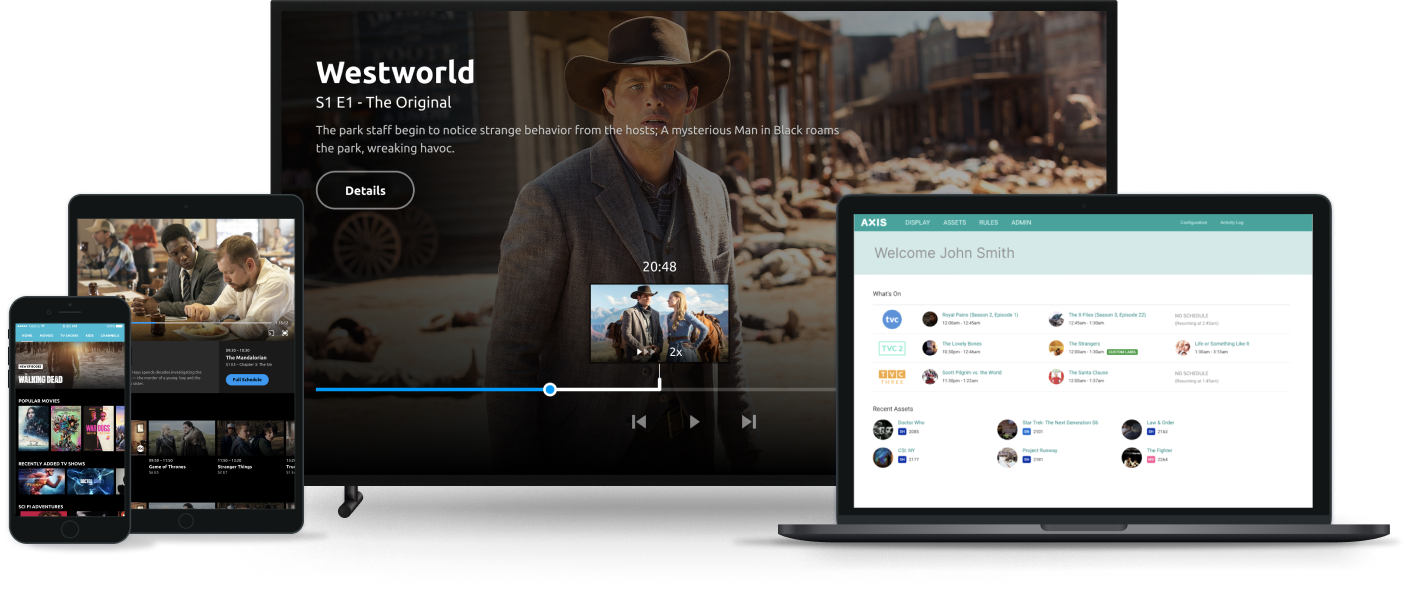 Presentation Manager
With Presentation Manager, you have real-time control over the content your users see, and how it appears. As the back end component of AXIS, its intuitive content management capabilities allow you to ingest sports and entertainment assets from your catalog, and configure and preview pages of dynamic content. A range of personalization features support content targetting through user and device segmentation. The content is then exposed through the AXIS API to be consumed by the apps.
To learn more about what Presentation Manager offers, take a look at our article Introducing Presentation Manager.

Reference Apps
The Reference Applications (or Apps) provide the presentation layer (i.e. the front end). They're available as templates to use off-the-shelf or customized to your requirements, and harness the capabilities of Presentation Manager. Adapting quickly and seamlessly, they display your content across user-facing apps on a wide range of devices, including mobile and tablet (Android, iOS and iPadOS), web, WebTV and Roku.
Find out more in our Introducing Reference Apps article.

Make sure to check out the glossary as well, a useful tool that will help you get familiar with AXIS features and terminology.